Weekday Lineup
6:01 – Radio Iowa
6:05 – Brownfield Dairy Report
6:20 – Sports
6:37 – Local News Headlines
6:45 – Tips for Today's Homeowner
6:55 – Birthday & Anniversary Calendar
7:02 – Local News
7:19 – Funeral Announcements
7:24 – Brownfield Morning Livestock Report
7:30 – Sports
7:40 – School Days Program (during school year)
7:45 – Pet Patrol
8:02 – Local News
8:12 – Funeral Announcements
8:20 – Swap Shop
8:45 – The Daily Grind
9:05 – Birthday & Anniversary Calendar
9:08 – Markets
9:31 – Brownfield Opening Market Update
10:02 – Markets
11:02 – Markets
11:40 – Local News Headlines
12:03 – Local News
12:15 – Funeral Announcements
12:25 – Sports
12:35 – Brownfield Mid-Day Market Reports
12:41 – Managing For Profit
12:45 – O'Reilly Report
1:15 – Brownfield Farm Break
2:02 – Brownfield Commodity Closing Report
5:05 – Local News
5:16 – Funeral Announcements
5:20 – Sports
5:30 – Brownfield Commodity Settlement
5:36 – Pet Patrol
5:38 – Tips for Today's Homeowner
Saturday Lineup
6:20 – Fox Sports
6:31 – Brownfield Weekend Market Update
7:02 – Local News
7:19 – Funeral Announcements
7:22 – Sports
7:40 – School Days Program (during school year)
8:02 – Local News
8:19 – Funeral Announcements
9:02 – Coffee with the Coaches (Fall & Winter)
10:02 – Capital Comments (during regular Iowa Legislative session)
11:30 – Sioux County Extension Report
12:03 – Local News
12:15 – Funeral Announcements
12:20 – Sports
2:30 – Fox Sports
3:30 – Fox Sports
4:30 – Fox Sports
5:30 – Fox Sports
6:30 – Fox Sports
Sunday Lineup
7:02 – Funeral Announcements
8:02 – Funeral Announcements
9:00 – Grace Community Church
9:30 – First Reformed Church of Orange City
10:30 – Worship Music
11:00 – Central Reformed Church of Sioux Center
12:02 – Local News
12:17 – Funeral Announcements
12:20 – Sports
12:30 – Amistad Cristiana
1:00 – Precious Memories
8:00 – Regular Programming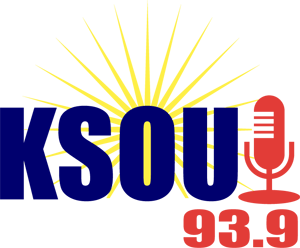 93.9 KSOU-FM is our parent station. Originally going on the air in 1974, it has become the information leader for Northwest Iowa, broadcasting 24 hours a day.  The station also streams live on the internet.
93.9 KSOU is your source for local information and events. Local news updates are aired at 7a, 8a, Noon and 5p. On 93.9 KSOU will you hear issues that concern you most: city and county government, extension news, school news, events, and local happenings. 93.9 KSOU is also a Radio Iowa and FOX News Radio affiliate to help keep you even better informed on state, national and world news. Hear the latest from FOX news at the top of each hour.
93.9 KSOU gives you the latest weather information at the top and bottom of each hour. When severe weather strikes, count on 93.9 KSOU and the Weatherology meteorologists to keep you informed.
93.9 KSOU brings you current farm news and information with the agriculture experts at the Brownfield Network. In addition, you'll hear hourly market updates on 93.9 KSOU throughout the trading day.
Local sports is another high priority year-round. Weekday local sports updates air about 6:20a, 7:25a, 12:25p and 5:25p. Our coverage of area high schools includes Sioux Center, Rock Valley, Boyden-Hull, Western Christian, Unity Christian, MOC-Floyd Valley, West Sioux and Trinity Christian. 93.9 KSOU is also your home for the Northwestern College Red Raiders. Click here for upcoming games on our Sioux County Radio stations. Did you miss the game? You can listen to it at your convenience by going to our Audio Archive.
93.9 KSOU plays the best mix of bright adult contemporary music from the 70s up to today, including artists like Ed Sheeran, Journey, Maroon 5, Billy Joel, Harry Styles, Bon Jovi, Taylor Swift, Andy Grammer, John Mellencamp, Imagine Dragons and P!nk just to name a few. In addition, Dale Bakker plays your favorite hymns and songs of yesterday and today on "Precious Memories" Sundays from 1:00 to 8:00 p.m.