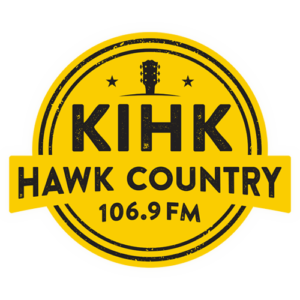 KIHK came on air in late 1997, joining KSOU-AM and FM. It began as a 24-hour country music station and continues spinning the newest country hits today. Hawk Country 106.9 also streams live on the internet.
Hawk Country 106.9 plays the latest and best country music from artists like Luke Combs, Florida-George Line, Rascal Flatts, Blake Shelton, Luke Bryan, Kelsea Ballerini, Keith Urban and Maren Morris.
KIHK gives you the latest weather information approximately :20 and :50 after each hour. When severe weather strikes, the Weatherology meteorologists keep you abreast of the situation.
KIHK is affiliated with Fox News Radio, and Fox News Updates can be heard at the beginning of each hour as well as local updates at 8a, 9a, 11a and noon.
Weekdays local sports updates air about 7:50a, 8:35a, 12:20p and 5:20p. Along with sister stations 93.9 KSOU and Sioux Ritmo, our coverage of area high schools includes Sioux Center, Rock Valley, Boyden-Hull, Western Christian, Unity Christian, MOC-Floyd Valley, West Sioux and Trinity Christian. Did you miss a local game? You can listen to it at your convenience by going to our Audio Archive. KIHK is also your radio home for Dordt Defender Athletics. Click here for all the upcoming games on our Sioux County Radio Stations.
KIHK airs Brownfield Network and Your Ag Network market reports each weekday.
•5:50a Iowa Agribusiness Money Matters
•6:35a Your Ag Network Overnight Trade Report
•7:00a Brownfield Morning Livestock Report
•8:50a Your Ag Network Hot Barn Report
•10:00a Brownfield Board of Trade Opening Report
•1:00p Brownfield Midday Livestock Report
•2:00p Brownfield Late Session Commodity Update Report
other special programming
•CALLING ALL SPORTS (Weekdays at 4:00p): Local sports talk encompassing the tri-state area of Iowa, Minnesota & South Dakota.
•BETHEL CHRISTIAN REFORMED CHURCH: Worship Service 10a Sundays