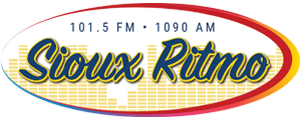 KSOU-AM went on the air in 1969 as the original station of the group, preceding both KSOU-FM and KIHK. Known as Sioux Ritmo with a Spanish music format since February 2020, KSOU-AM 1090 began translating at 101.5 on the FM dial with a call sign of K268CZ in 2016. Previous programming formats of KSOU-AM 1090 have included Christian Contemporary music and Classic Hits music. Sioux Ritmo 101.5 also streams live on the internet.
Sioux Ritmo plays broad range of Spanish Adult hits from the 80s, 90s, 2000s, and today.
Twice hourly, Weatherology meteorologists provide the most up-to-date local weather information. When severe weather strikes, the Weatherology meteorologists keep you abreast of the situation.  Find Sioux Ritmo Weather Related & Local Announcements here.
Sioux Ritmo is affiliated with Fox News Radio and Minuto 60 News. Local news updates can be heard weekdays about 8:15a, 9:15a, 11:15a and 12:15p.
Weekdays local sports updates air about 7:30a, 8:30a, 12:30p and 5:30p. Along with sister stations 93.9 KSOU and Hawk Country 106.9 KIHK, our coverage of area high schools include Sioux Center, Rock Valley, Boyden-Hull, Western Christian, Unity Christian, MOC-Floyd Valley, West Sioux and Trinity Christian.  Sioux Ritmo carries local high school football play-by-play each week in the fall and occasional local games during other sports seasons. Sioux Ritmo is also home to Iowa Hawkeye football and basketball. Click here for all the upcoming game broadcasts on our Sioux County Radio stations.
KSOU-AM is a daytime only station and operates seven days a week beginning at sunrise. KSOU-AM's broadcast day ends at 7:00PM unless sunset occurs earlier. K268CZ operates 24 hours a day, 7 days a week at 101.5 on the FM dial.