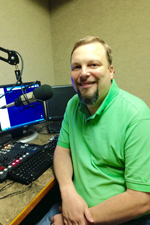 General Manager / Host of The Daily Grind
Piet, born in San Diego, California, has still not gotten used to the cold weather after more then a decade of living in Northwest Iowa. He started his radio career at KDCR at Dordt College and has loved radio ever since. After stints at Sioux County Radio in sales and as afternoon & evening announcer, Piet returned for a third time in August 2017 as the General Manager of Sioux County Radio. He added The Daily Grind to his responsibilities when the show debuted in January 2018. Despite the move to Los Angeles, Piet remains an avid Chargers fan.
Born in Everett, WA, Mark moved to Sioux Center to attend Dordt College where he earned a BA in Communication with an emphasis in broadcasting. After working at numerous radio stations in NW Iowa including KVDB (now KSOU), Mark moved into non-profit fundraising, non-profit management, a "temporary" stint in retail and now has come full circle back to Sioux County Radio. After several years as an account executive, Mark became the SCR News Director in January 2018. Mark married his college sweetheart Miriam in 1989, and they have three children and one granddaughter. Hobbies include woodworking, fishing, vineyard stewardship, wine-making, cheering for the Seattle Seahawks and Seattle Mariners (someone has to).
Sports Director / Assistant News Director
Doug began his career here at KSOU (then KVDB) as an evening announcer in 1987 after graduating from Iowa Central Community College in Fort Dodge. Before coming back to KSOU, he worked at KIDA in Ida Grove, IA and KBOE in Oskaloosa, IA. In 1997, Doug returned as the new News and Sports Director at Sioux County Radio, and he continued in that dual position for over 20 years.  Due to the tremendous success of our area athletes and the demands associated with that, Doug stepped away from the News Director position to allow for more focus on SCR's sports coverage. To see a list of upcoming games aired on our Sioux County Radio stations, click here. For the scores and team news, Doug's the one to count on!
Morning Announcer / Chief Operator / Music Director / Webmaster
Scott started his radio career in 1993 at KCIM in Carroll, IA, after graduating from Buena Vista University in Storm Lake. Scott has been honored by the Iowa Associated Press and the Iowa Broadcast News Association for his play-by-play work in previous stops as a sportscaster in Algona, IA and Sioux City. He has been with Sioux County Radio since January 1999. An Omaha native, Scott is an avid Nebraska Cornhusker fan. and a displaced Cheesehead, cheering for the Green Bay Packers as well as Milwaukee Brewers and Bucks. Listen to Scott, weekday mornings from 6 to 10 on 93.9 KSOU!
Midday Announcer / Production Director / Imaging Director
Cami Jo brings OVER 25 years of broadcast experience to the crew at Sioux County Radio. Yes, she's old! Whether it's country or contemporary, rock or rap, Cami Jo has spun some records…Yes, when she started, they were actual records. After several stints at stations abroad, she makes her home once again at 93.9FM. She's had her fingers in every aspect of the business both on air and behind the scenes…from traffic control to commercials, and from programming to production, she truly loves every minute of it.. and why not? After all, she is a blonde that is actually paid to talk! Tune into Cami Jo and the Midday show, weekdays starting at 10am on 93.9 KSOU!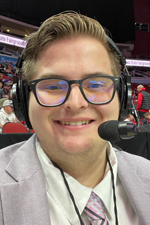 Afternoon Announcer / Sports Play-by-Play Announcer / Community Calendar / PSA DirectoR
Schuby originally hails (and currently) from Rock Rapids. Carson joined Sioux County Radio from KMA Broadcasting in Shenandoah, IA. He worked for Sioux County Radio, as a play-by-play broadcaster, while attending Northwest Iowa Community College in Sheldon to complete his general education. After that Schuby finished his sports marketing and media degree at the University of South Dakota. Schuby enjoys watching sports, binging on streaming services, spending time with family and friends. He is a Minnesota sports fan, Hawkeye fan, and a Lakers fan. You can follow him on Twitter, if you dare, @CarsonSchuby.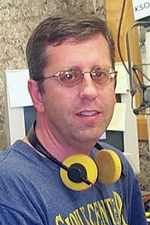 Announcer / Host of Precious Memories
Precious Memories airs Sunday afternoons on 93.9 KSOU. The old-time gospel request show starts at 1:00pm and runs through 8:00pm. Dale celebrated his 1000th show in July 2015!!! Make sure to tune in every Sunday and take a ride down memory lane with Precious Memories!
Sports Play-by-Play Announcer
A part-time sports broadcaster with Sioux County Radio since 2009, Matt is the Assistant Director of Athletic Communications at Dordt University. He was previously the Sports Information Director at Northwestern College from 2004-2021 and was twice honored at the GPAC SID-of-the-Year. Matt has broadcasted games at the NAIA DII Men's BB and NAIA Volleyball National Championships and was also media coordinator at the NAIA DII Men's BB championships from 2007-2020. Matt is married to his high school sweetheart, Teri, and is the proud dad of two great kids, Jordan and Devin. When not working, chances are Matt is watching his kids in one of their several activities. He is an avid fan of the Chicago Bears, well actually any Chicago pro team, and anyone who beats the Vikings.